Quick FYI before you guys jump into this: I wrote this review back in March, so my review style is different with it. Regardless, it is a review, so enjoy!
My overall rating of this book is a 4 out of 5.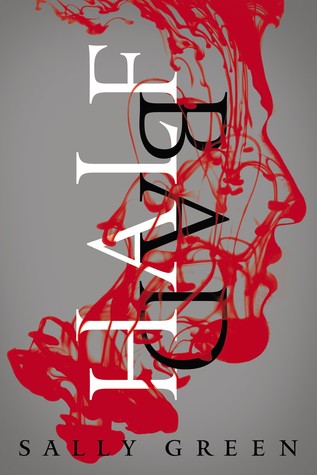 Not gonna lie, the cover is what really attracted me to Half Bad, it's gorgeous. The summary was pretty interesting as well, check it out:
In modern-day England, witches live alongside humans: White witches, who are good; Black witches, who are evil; and sixteen-year-old Nathan, who is both. Nathan's father is the world's most powerful and cruel Black witch, and his mother is dead. He is hunted from all sides. Trapped in a cage, beaten and handcuffed, Nathan must escape before his seventeenth birthday, at which point he will receive three gifts from his father and come into his own as a witch—or else he will die. But how can Nathan find his father when his every action is tracked, when there is no one safe to trust—not even family, not even the girl he loves?
When I first started the book I was a little thrown off because it starts out in 2nd person POV as opposed to the typical 1st or 3rd. Nevertheless I gave it a proper chance and kept reading and I'm glad I did. I must also say I admired the way Green set it up. You start out with Nathan in the cage with this 2nd person POV and then after a couple of little 'chapters' he introduces you to how he got in the cage in the first place. When he starts telling his life story it switches to 1st person POV and it starts with one of his siblings telling him the story of when he was a baby, then throughout the book you get to watch him grow up until he's put into the cage. It goes back to 2nd person POV for one chapter and then switches back to the 1st person POV indefinitely. I admire the way this is set up because she split it into parts and chapters and it really felt like a mental diary of a young boy.
I couldn't stop reading once I got going with this book. It is hard to read at times because Nathan goes through a whole lot of crap. If I were in his shoes I would have given up. But he keeps going and keeps trying to live his life, regardless of the pressures around him. While it's a little hard to read, you can't stop because he's still pushing to live and you want to find out what will happen to him. As you read you question the rules that are set out within the book. Who is good? Who is bad? With every little twist you find yourself questioning this more and more as well as: Who to trust?
There was one thing within this book that I wasn't too taken with was the romance aspect. I did like that Green didn't focus on it too much in this book, though I have a feeling it will be brought up more, possibly with a love triangle, which in this case I would welcome because I don't like the initial love interest very much, but I do like the possibility Green sets up with the second potential love interest. This book does focus more on the familial love, which I really liked.
The whole witches' thing with the gifts and everything was set up really well. It's certainly a unique idea and the whole Gift thing was a nice change from stories where witches just did it all (not that I don't like those stories, looking at you Harry Potter). It was just different. Green does a great job introducing what everything is and making sure it sticks with the reader.
It's a very dark book and should not be taken lightly. There are a lot of problems Nathan deals with which many people go through, but in Nathan's case, they're much more drastic. If you're looking for humor or a love story, this isn't the book you want to read. There's a lot of sarcasm but not really any humor, and the so called love in this story between Nathan and the love interest is very bland. But if you want a survival story of a boy in a different world than our own, then this is definitely the book for you. Poor alienated Nathan is definitely a character I want to see grow up more, especially after the end which really opens up a lot of doors for him. I'm eager to see what'll happen within the next two novels.
Until later Chaos Seekers!